A Novel Fabric Softener Providing Moisture Management and Minimizing Drying Time
Michael Kutsenko, Christopher Hagler and Darren Mond
Goulston Technologies, Inc., Monroe, NC, USA
Goulston Technologies is well known as an expert in the fields of spin finish and functional fiber surface modifications. Expanding on our surface modification technology, we have developed Lurol-LA – an advanced eco-friendly laundry additive. The concept for Lurol-LA began as a non-silicone alternative for polyester fiberfill and was later adapted as a durable hydrophilic overcoat finish for polyester yarns. Its unique combination of properties allowed us to make modifications to make it suitable for use as a laundry additive.
Most commercial laundry additives are designed for use in the rinse cycle and offer consumers the properties of softness, fragrance and antistatic protection. However, none of the commercial products offer a combination of softness, moisture management, and minimization of drying time. Lurol-LA was developed as a fabric softener that also provides moisture management properties. During the development, we found that Lurol-LA not only provides those properties but also effectively lowers energy consumption by reducing drying times.
The idea to minimize drying time by using additives was introduced by Carter and Shah in their paper "Saving Energy and Time in Drying of Laundry: Molecular Mechanisms to Decrease the Residual Water Content of Fabric at the End of the Washing Cycle". They have conclusively shown that "…by reducing the surface tension of residual water in the fabric, one can reduce the residual water content of the fabric after the spinning cycle. Thus, there is an obvious need for identifying the surfactants or their combinations to cause the maximum reduction in the surface tension of water trapped in the fabric. Of course, it is a challenging task to accomplish this objective without compromising the other parameters of the cleaning performance."¹ This approach is achievable but has a very serious shortcoming – excessive amounts of surfactants in the rinse water have a negative impact on the environment.
In developing Lurol-LA, we used a similar idea to reduce residual moisture in fabrics after the rinse cycle, but our method minimizes the content of chemicals in the effluent. Instead of using super-surfactants to reduce the surface tension of the water in the rinse cycle, our product makes the fabric surface hydrophilic, thereby reducing capillary pressure and improving water removal. This results in shorter drying times; allowing for energy savings without a negative impact on the environment because we have minimized the amount of organic chemicals in the water discharge.
Laundering High Performance Sports Apparel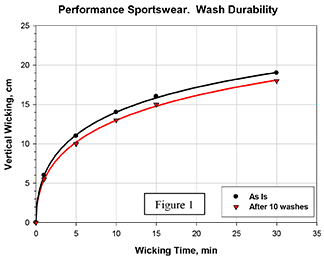 In the field of performance apparel, traditional cotton fabrics have been replaced by 100% microdenier polyester and polyester/spandex blends, which offer advanced moisture management (wicking of moisture from the skin and corresponding quick evaporation). These fabrics provide moisture management through special fiber cross-sections and/or topical treatments that promote wicking. Garments made from these fabrics carry recommendations for regular wash cycles and at least imply, if not claim, wash durability of moisture management properties. When we compared wash durability of a 100% polyester moisture management fabric, we found (Figure 1) that the fabric maintained its wicking proper-ties after 10 consecutive wash cycles (regular household washing cycle in warm water with Tide® detergent).
Data in Figure 1 was generated by washing several pieces of high performance sports apparel alone. We then washed these items in a mixed laundry load that included a wide variety of fabrics. We discovered that the sports apparel lost its moisture management qualities after the very first cycle (Figure 2).
We repeated both experiments (separate and mixed wash loads) confirming the consistency of the generated results. Data in Figures 1 and 2 suggest that high performance apparel maintains its moisture management properties when washed separately, but loses it during mixed loads laundering due to dilution of the original topical treatment presented on the fabric. This treatment has a very high affinity to polyester fabric; even though it is removed from the surface, it is re-deposited on the polyester during the rinse cycle. When other un-treated fabrics are present in the laundry load, this topical treatment is re-distributed between all the fabrics, resulting in insufficient treatment to provide moisture management for any of the fabrics.
Traditional laundry softeners such as Downy®, Snuggle®, Purex®, etc., are hydrophobic and further depress the original moisture management properties. Lurol-LA added into the rinse cycle at the same level as the commercial softeners (Figure 3), completely restores the moisture management properties (equivalent to new high performance sports apparel).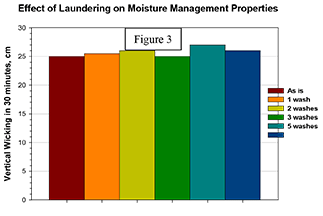 Mixed Laundry Loads
We used Lurol-LA as a rinse cycle additive evaluating its effect on the following types of fabrics: poly/cotton blends; woven and knitted fabrics; 100% cotton sheets; 100% cotton terry towels; and poly/cotton blend terry towels.
Our data indicated that in every case mentioned above, the addition of Lurol-LA in the rinse cycle resulted in softer and more hydrophilic fabrics compared to the untreated controls or fabrics washed with commercial softeners.
Comparison of Lurol-LA with a variety of commercial softeners is summarized in Table 1.
Table 1. Effect of Rinse Cycle Additives on Softness and Hydrophilicity
Product
Laundered Fabric
Softness (grams force)
Method
Hydrophobic
99
Ultra Purex
80
Snuggle
88
Snuggle, Exhilarations
85
Ultra Downy
86
Ultra Downy, Total Care
74
Suavizzante, Soft Breeze
76
Ultra Gain
94
Nice'n Fluffy
80

Lurol-LA

Hydrophilic

60

Untreated Control
Hydrophobic
109
Data in Table 1 was generated using mixed fabric types loads. Hydrophilicity and hydrophobicity of the fabric were evaluated based on their water absorption. Softness was measured using a ring test, where a piece of fabric was pushed through a metal ring. The resulting force was recorded; the lower the force, the softer the fabric.
Lurol-LA was specifically formulated to match application properties of the commercial softeners. Detailed comparison of these properties is presented in Table 2.
Table 2. Properties of Commercial Laundry Softeners
Product Brand
Manufacturer
Activity, %
Viscosity, cps
Recommended Load
Recommended OPU, %
Large 13 lbs
Normal 8 lbs
Small 3 lbs
Large 13 lbs
Normal 8 lbs
Small 3 lbs
Method
Method Products
18.5
680
29.5
15
7.5
0.092
0.076
0.102
Ultra Purex
Dial
9.6
223
60
35
25
0.098
0.093
0.176
Snuggle
Unilever
17.5
63
24.5
12
N/A
0.073
0.058
N/A
Ultra Downy
P&G
18.2
132
45
35
25
0.139
0.175
0.334
Ultra Suavitel
Colgate
15.7
147
29.5
15
7.5
0.078
0.065
0.086
Suavizzante
Huish Detergents
5.0
27
94.5
47
N/A
0.080
0.065
N/A
Ultra Gain
P&G
13.7
120
45
35
25
0.104
0.132
0.251
Nice'n Fluffy
Church & Dwight
6.7
57
59
29.5
N/A
0.067
0.054
N/A

Lurol-LA

20

130

30

18

7

0.10

0.10

0.10
Data in Table 2 indicates that application properties of Lurol-LA are very similar to the corresponding properties of commercial softeners. It is available at the same active content with medium range viscosity and is efficient at the same application levels.
Effect of Lurol-LA on Drying Time
We then investigated whether the hydrophilic nature of Lurol-LA would minimize residual water content after final rinse and spinning cycles leading to reductions in drying time and energy consumption. To quantify the effect of Lurol-LA on drying time, we tested laundry in a regular wash cycle with various fabrics and measured drying time. We used a high efficiency Samsung WF-210 washer equipped with automatic softener dispenser and a matching Samsung DV-210AE drier with dry sensor technology. We selected "normal cycle" for both washing and drying stages using pre-weighed amounts of detergent (Tide® he) and softeners (Ultra Downy® and Lurol-LA). A summary of the results is presented in Table 3.
Table 3. Effect of Lurol-LA on Drying Time
Fabric Type
Detergent
Softener
Drying Time, min
100% Terry Cloth Towels
Tide® he
None
50
Ultra Downy®
50
Lurol-LA
45
52/48 Poly/Cotton sheets 120 thread count
Tide® he
None
30
Ultra Downy®
30
Lurol-LA
20
100% Cotton sheets
400 thread count
Tide® he
None
24
Ultra Downy®
24
Lurol-LA
22
Lurol-LA's ability to reduce drying time is most evident in the case of poly/cotton fabric, with a reduction of 30%. Similar but more modest reductions in drying time were observed in the case of cotton terry towels (10%) and cotton sheets (8%). All fabrics washed with Lurol-LA showed better hydrophilicity than the ones washed with only Tide® or the Tide® + Ultra Downy® combination. The effect of Lurol-LA on fabrics' softness is similar to Ultra Downy®, although somewhat less pronounced in the case of 100% cotton fabrics.
Conclusions
Goulston Technologies has developed an eco-friendly product called Lurol-LA as an alternative laundry additive which, when added at the rinse cycles provides advanced moisture management properties in combination with improved softness. Addition of Lurol-LA into the rinse cycle also helps to minimize the amount of residual water and reduces drying time, saving up to 30% in energy costs.
¹Carter, D. L. and D. O. Shah. "Saving Energy and Time in Drying of Laundry: Molecular Mechanisms to Decrease the Residual Water Content of Fabric at the End of the Washing Cycle" in International Detergency Conference, 2005, Düsseldorf.